Homesteads are all about becoming as self-sufficient as possible. The more food you can grow and livestock you can raise, the less you must depend on the outside world for the things you need to survive.
Making homemade meals is one of the many benefits of living on a homestead. Home-baked bread can be the finishing touch to any dish. Easy artisanal bread for homestead meals is one of our favorite things to make.
If you're not sure what artisanal bread is or how you can use it, you're in luck. In this blog, we explain:
What is artisanal bread?
Artisanal bread, sometimes called artisan bread for short, is known for its lean ingredients. Unlike some other homemade bread, artisan recipes have lower fat and sugar levels, making them delicious and nutritious.
This type of handmade bread doesn't have a long shelf life since it lacks many of the preservatives found in store-bought bread. To enjoy its maximum freshness, you'll want to eat it within a day or two of making it.
Another thing distinguishes artisan bread from other types of bread. The U.S. Food and Drug Administration (FDA) doesn't have a Standard of Identity set for it. Standards of Identity (SOI) is just a fancy way to say the FDA decided in detail what food must contain to be labeled a certain way. Some SOIs can describe a production method instead of an ingredient formulation.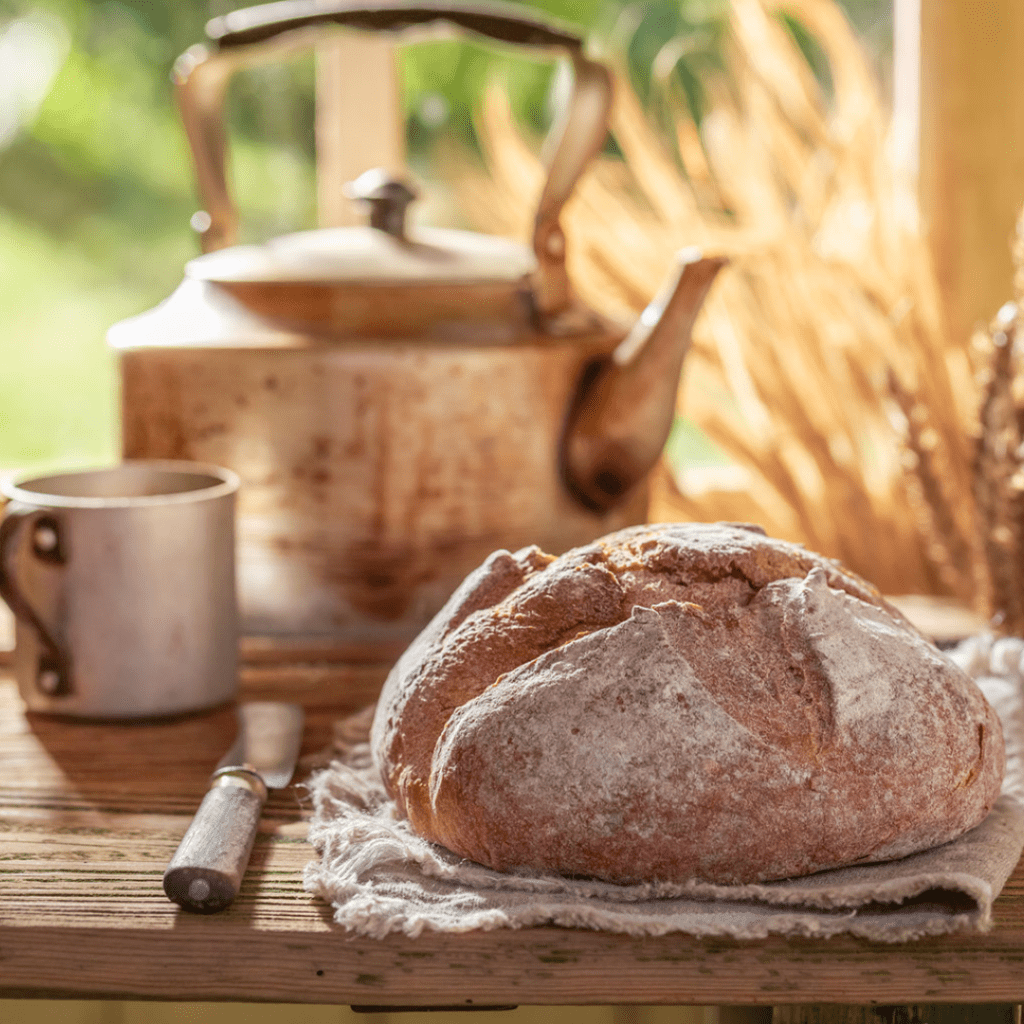 Types of artisanal bread
Handmade bread that is baked using a hearth meets the criteria for being called artisanal. Some sourdough bread also meets the standard definition. The following bread is among those that have earned the artisan label:
Baguette
Brioche (enriched)
Ciabatta
Focaccia
Multigrain bread (naturally leavened)
Panettone (enriched)
White bread (naturally leavened)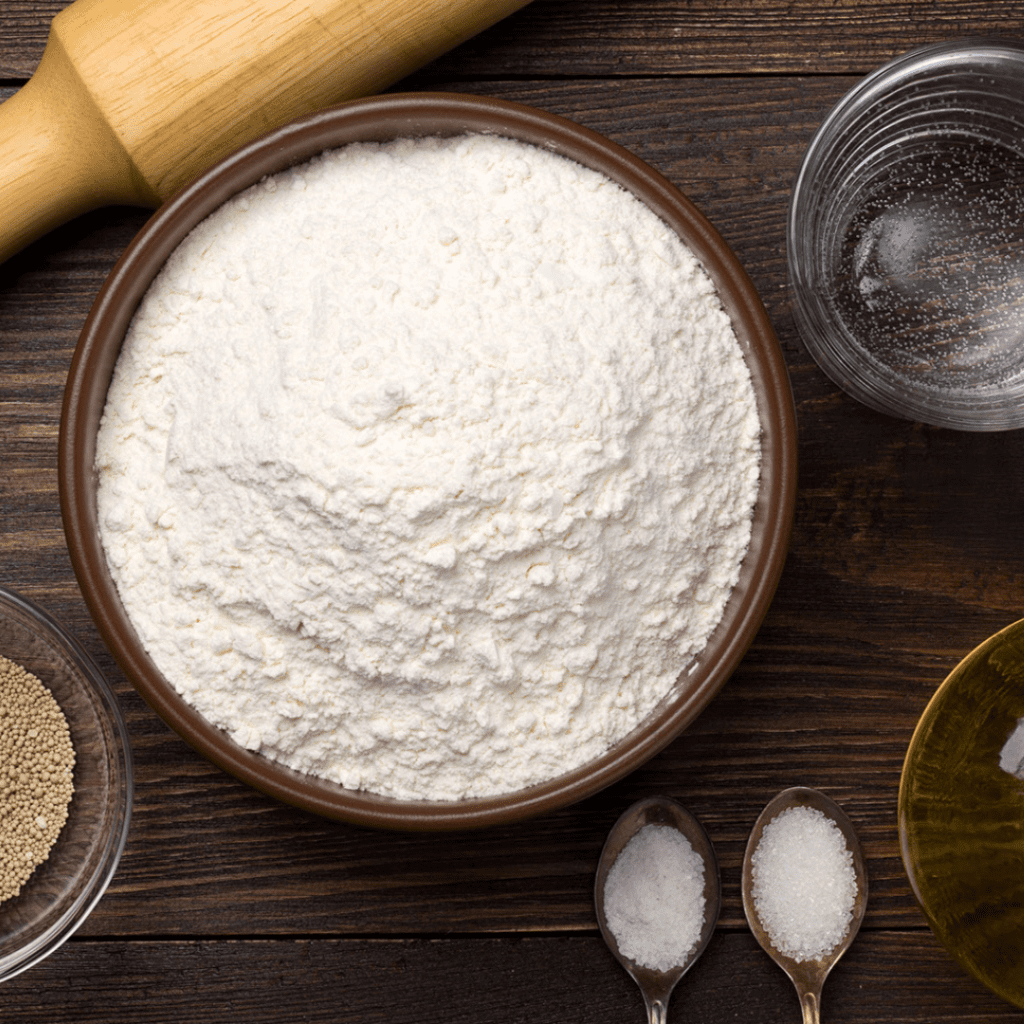 What are the four signature ingredients in artisanal bread?
As previously mentioned, artisan bread is big in taste but short in ingredients. It's one of the many reasons we love making it on our homestead. The recipes are so easy that even our kids can help.
All artisan bread has four signature ingredients:
Any bread that uses chemical additives can't carry the artisan label.
You might think it sounds like artisan bread would be boring and tasteless with just these ingredients, but you'd be wrong. You can add herbs and spices to your handmade bread to give it a unique aroma and flavor.
By keeping it simple, you create an artisanal bread that is not only tasty but also has health benefits. The longer fermentation process of artisan bread makes it much easier to digest, which can be important for people with gluten intolerance or other digestive tract issues.
One out of every 133 Americans have gluten intolerance issues. Longer fermentation lets the enzymes in bread break down gluten more efficiently.
What is the best flour to use for artisan bread?
Most homemade bread recipes use all-purpose flour. With artisan bread, you want to use bread flour instead.
Bread flour, unlike all-purpose flour, contains between 12 and 14% protein. Its higher protein levels make it ideal for baking yeasted bread. Artisanal bread dough made with bread flour is more elastic and lighter, which produces an airy and chewy texture after baking.
You can buy bread flour in some specialty stores, or you can make your own at home. To make it at home, do the following:
Measure out 1 cup of all-purpose flour.
Remove 1.5 teaspoons of the flour from the cup.
Add 1.5 teaspoons of vital wheat gluten.
Whisk to combine.
Nature's first wheat for artisan bread
Another popular type of flour for making artisanal bread is called einkorn flour. It's the oldest wheat known to scientists and consists of only 14 chromosomes (compared with the 42 of modern wheat). Because it's easier to digest and contains more protein and antioxidants than modern wheat flour, it's a favorite among the gluten-intolerant.
Einkorn flour can be found at whole foods markets and other specialty vendors.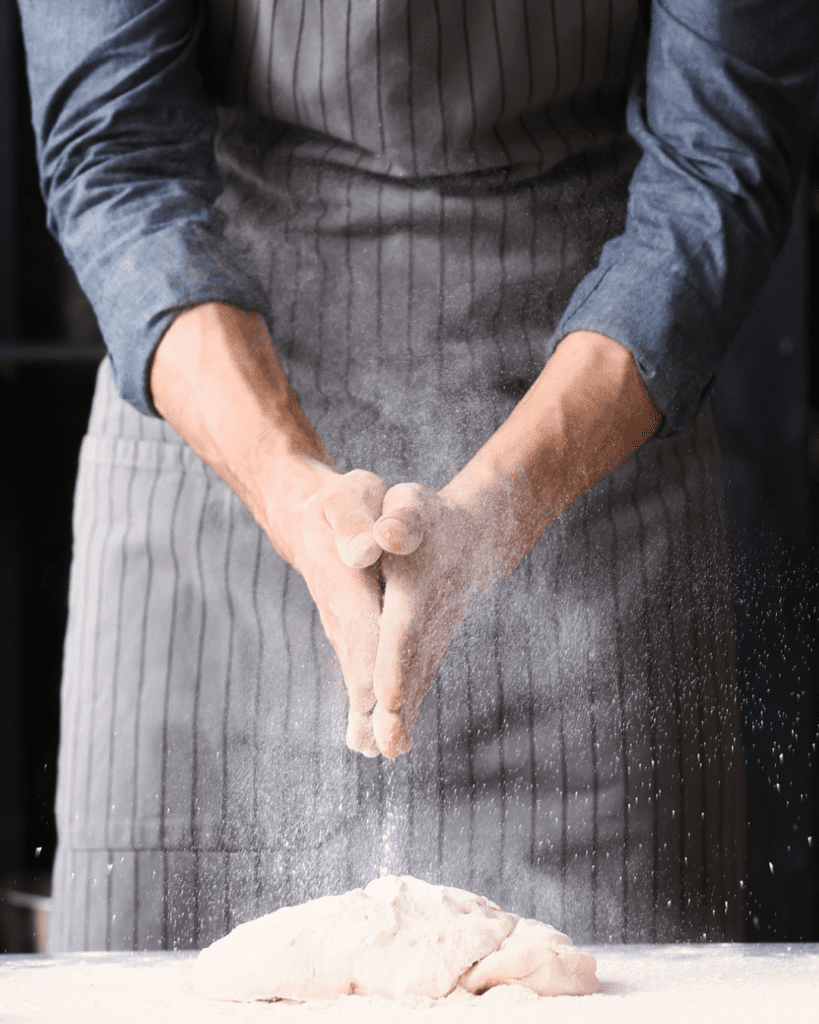 How do you make artisanal bread?
There is hardly a shortage of recipes out there for making artisanal bread. You can even sign up for master classes with artisanal bread chefs who have made it their life's work to create some of the tastiest handmade bread available.
If you're looking for a simple recipe to get you started, this is one that we recommend often. It doesn't require kneading or a stand mixer and takes about 3 minutes of active effort to get the dough ready.
Ingredients you'll need:
3-1/4 cups bread flour
2 teaspoons instant yeast
2 teaspoons coarse salt
1-1/2 cups cool water
How to make it:
Step 1 – Whisk the flour, yeast, and salt together in a large mixing bowl.
Step 2 – Pour in the cool water and gently mix with a rubber spatula or wooden spoon. The dough will look dry at first, so keep working it until it's well-moistened. You may need to use your hands a bit instead of the spatula or spoon to blend the water with the other ingredients.
Step 3 – Shape the dough into a ball in the bowl and cover it tightly with plastic wrap. Set it on the counter at room temperature and allow it to rise for 2-3 hours. The dough is ready when it doubles in size and has a lot of air bubbles.
Step 4 – Lightly dust a large nonstick baking sheet with flour or cornmeal and place the dough on it. Use a sharp knife to cut the dough in half and form two long loaves.
Step 5 – Preheat the oven to 475 degrees Fahrenheit. Score the bread loves with 3 slashes each about a half-inch deep, then place in the oven.
Step 6 – Bake for 20 to 25 minutes or until the crust is golden brown.
That's it! It's that simple to make artisanal bread at home! As you get better, you can experiment with other ingredients, including herbs and spices, to give your bread a unique aroma and flavor.
If you make some artisan bread at home, we'd love to know how it turned out. Or, if you have a favorite recipe, we encourage you to share it in the comments.
Happy bread baking!
Sources