Cobbler recipes for Thanksgiving can be more fun to make than traditional pies. Maybe you're not skilled at making a pie crust from scratch (no matter how hard you try). That's OK. Cobblers can be a suitable – and tasty – replacement.
Or, if you want to have plenty of options for your homestead Thanksgiving meal, you can toss a few cobblers in with traditional Thanksgiving desserts like pumpkin pie and caramel pecan pie.
Ready to learn more about cobblers and how to make one for your homestead Thanksgiving feast? In this blog we explore:
What is a cobbler?
What makes cobbler so gooey?
Can a cobbler be prepared ahead of time?
What is an easy cobbler recipe?
What is a traditional cobbler recipe?
How do you serve cobbler?
What is a cobbler?
If you're relying on the dictionary to find the definition of a cobbler, you might not get what you expected. Most dictionaries define cobbler as "a mender or maker of shoes and often of other leather goods."
While sometimes our cooking-from-scratch can resemble worn leather if we fail to follow the recipe, that's not the kind of cobbler we're talking about in this blog. Cobbler also can be a dessert consisting of fruit filling poured into a large baking dish and covered with batter before baking.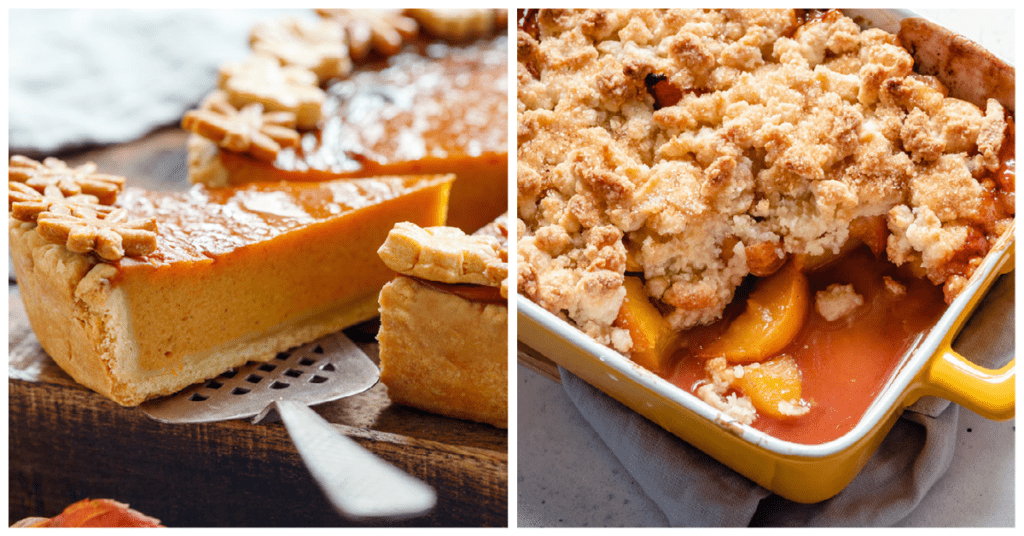 Cobbler vs. pie
Cobbler and pie are not the same things. Both have a tasty fruit filling, but that's the only similarity.
Cobblers should never use pastry crust. If you put pastry crust on cobbler, what you're making is called pandowdy. It's a type of dessert made with fruit and a thick pastry crust on top.
Another difference is that pies have pastry crust on the bottom and top with fruit or other filling in between. What makes cobblers an easier alternative is you can skip the bottom crust and instead use batter on the top only.
What makes cobbler so gooey?
Cobbler can be many things, but it never should be gooey. If you follow the instructions of a cobbler recipe to the letter and your creation turns out a bit runny, there are two likely reasons.
The first is that you used fruit filling that was extra juicy. This is a common mistake when using canned fruit filling. We recommend sticking with fresh or frozen fruit when possible.
If your fruit mixture looks a bit soppy, adding 2 tablespoons of starch to your fruit filling can keep it from becoming gooey after baking.
If you want to make your filling lush without the goo, include a dash of sugar and lemon juice with the cornstarch.
Can a cobbler be prepared ahead of time?
Yes. But there's a caveat. Never prepare and store an uncooked cobbler in the fridge before baking. Cobblers have a lot of moisture. If you mix the ingredients and then store them uncooked in the fridge together, you're going to find a watery, gooey mess when you're ready to bake it.
Instead, prepare the filling and the topping and store them separately in the refrigerator. When you're ready to bake the cobbler, combine the ingredients.
Cobbler is one of those desserts that's best served warm and eaten soon. While it can keep for 2 to 3 days in the refrigerator after baking, it's likely to become soggy.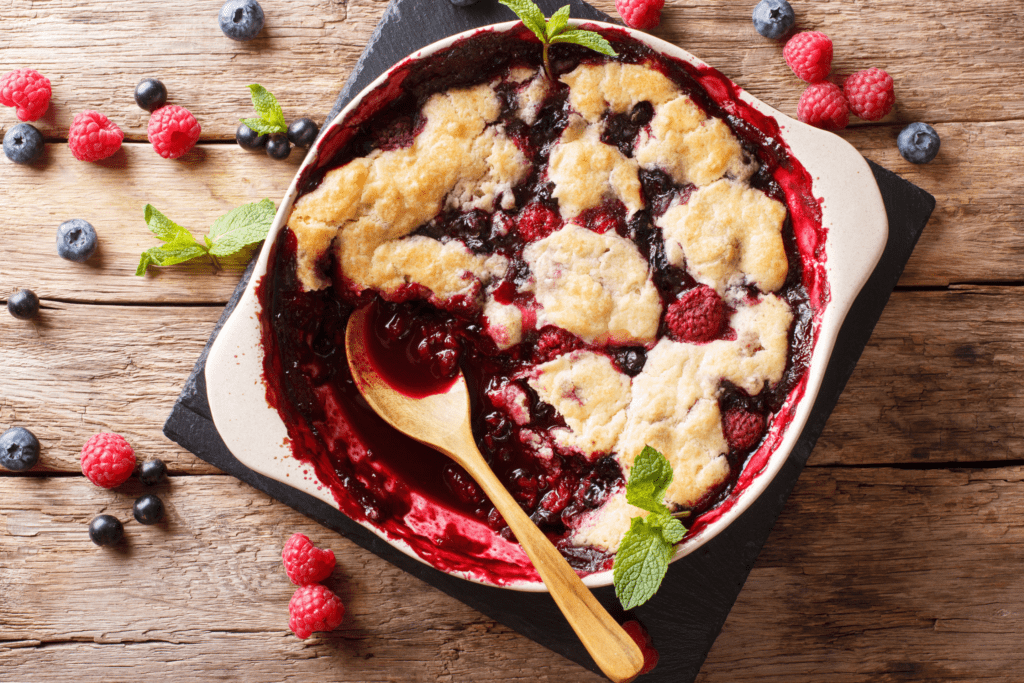 What is an easy cobbler recipe?
If you've never made a cobbler before and want the easiest recipe possible, we have just the one. Easy fruit cobbler is a popular recipe for homestead Thanksgiving meals. You can use any fruit filling for this recipe. Apples and peaches are popular this time of year.
What you need to make it:
1 cup all-purpose flour
2 teaspoons baking powder
¾ cups white sugar
¾ cup milk (we use raw Jersey cow milk)
¼ cup butter
2 cups fresh or frozen fruit filling
How to make it:
Preheat your oven to 325 degrees Fahrenheit.
Melt butter in a 9×9 inch baking dish.
Blend the flour, baking powder, sugar, and milk in a mixing bowl.
Pour the batter into the baking dish over the butter.
Sprinkle the fresh or frozen fruit on top of the batter (don't stir).
Bake for 1 hour or until golden brown.
What is a traditional cobbler recipe?
Cranberry cobbler is one of the most traditional homestead Thanksgiving meal cobblers you can make. This recipe calls for apples and cranberries. When combined, these two fruits make a mouth-watering dessert everyone can enjoy.
What you need to make it:
21 ounces of apple pie filling
16 ounces of whole cranberry sauce
1 package of yellow cake mix
½ teaspoon ground cinnamon
¼ teaspoon ground nutmeg
1 cup butter, softened
½ cup chopped nuts
How to make it:
Preheat your oven to 350 degrees Fahrenheit.
Combine apple pie filling and cranberry sauce in an ungreased 13x9x2 inch pan.
Blend the dry cake mix, cinnamon, and nutmeg in a bowl. Cut in the butter with a pastry blender.
Mix in the nuts and sprinkle the topping evenly over the fruit mixture.
Bake for 45 to 50 minutes or until golden brown.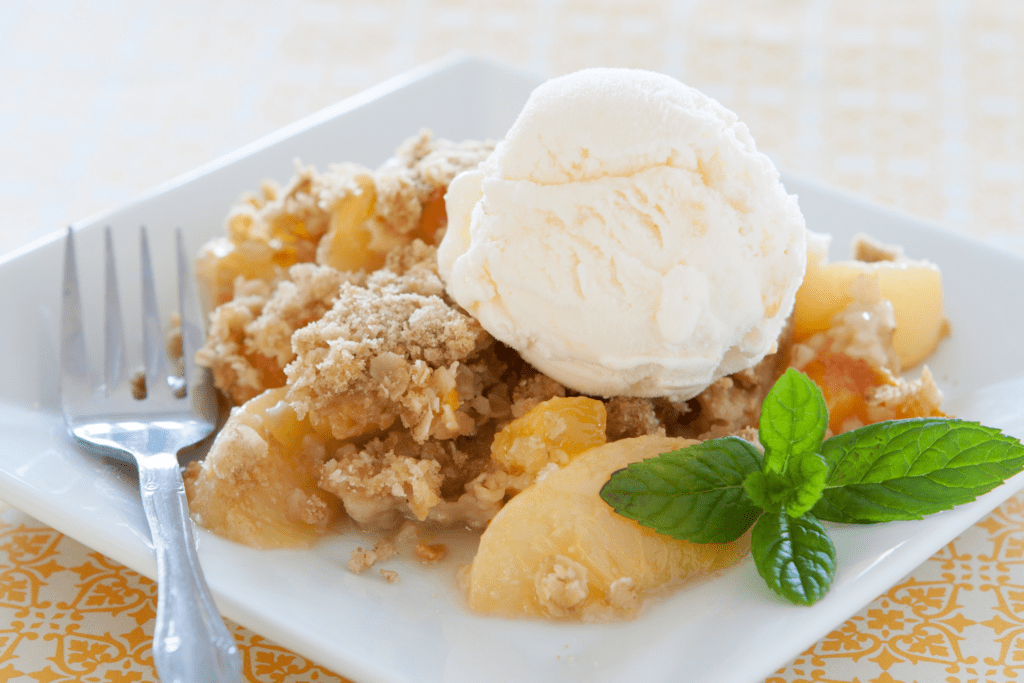 How do you serve cobbler?
It might sound like a good idea to serve cobbler to your homestead Thanksgiving meal guests while it's still warm, but this can be a mistake. Cobbler needs time to cool after baking.
Not only does allowing it to cool prevent burned mouths, but it also gives the fruit filling time to thicken. Waiting for at least 20 to 30 minutes after baking to serve your cobbler should be sufficient.
We like to serve our homemade cobbler topped with ice cream made from raw Jersey cow milk. If you don't want to get that fancy, you can use fresh whipped cream topping instead.
Hi there! I'm Kelsey! I am a wife, a mother and homesteader. I'm also a Certified Natural Health Practitioner so health is very important to me. I love to help people with their health journey. A HUGE part of that process is through high quality milk. I am a massive proponent of rich, high quality milk from Jersey Cows.